Corn circles near Aarhus



- When the farm owner look at the field the field, on saturday morning, then.....
Solbjerg near Aarhus, Denmark
August 05th., 2000.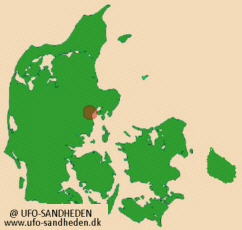 When the farm owner, Heidi Brund Laursen, got out of bed Saturday the 5th of August 2000, and look at the soon to be harvest wheat fields, she saw something strange. 19 days later the whole nation of Denmark would see it too.

This is the report of some corn, there stood up in the evening and laying wasted down the morning after.
Actual is it quite common, that something like this occurs. Particularly near harvest time, where the heavy wheat axis, do not need much wind or rain before they strip off and become crawling.

Precisely this crop, was on the field, between Borum and Viborgvej not far from Aarhus.

What was special about the wheat that laid down, when farm owner Heidi Brund Laursen saw on this Saturday morning is, that all the horizontal straws and axis seen from above looks like a enormous stamp impression. This, the rain can not do to the corn. Nor can the wind.

UFO's or?
You do not need to have studied the big international´s network corporations news coverage very much to see that from time to time are showing aerial photographs of these peculiar imprint to corn filed. And the speaker asks : "Made by flying saucers (UFOs ) or people?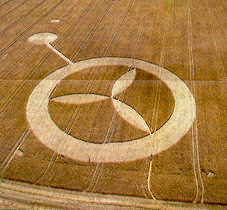 After which a person who believes in one thing is interviewed, and then a person that believes in another thing, before they rush on to a more tangible news story.

However this Saturday morning Heidi Brund Larsen, is calling "Meteorologisk Institut" (DMI Danish Meteorologist Institute) to hear if they have a natural explanation for this. Which they do not have.

So Heidi Brund Larsen, remembered seeing something on "Television 2 East Jutland" (TV2) a few days before, has showed different peculiar imprint on a corn field in Solbjerg near Aarhus.

Monday the 7th of August TV2 Denmark uses a little over 4 minutes to tell about the corn near Borum : Two minutes to display and describe and two minutes so that the planetarium leader Ole Knudsen from Steno Museum could say it is ;a prank nothing else.

Later the news is brought in the International Newspaper "Morgenavisen Jyllands-Posten", and now it´s suddenly getting interesting, and many come to the place as if it were sacred.

The evening before the likable and knowledge leader of the planetarium Ole Knudsen had once again gone from his Steno-museum to appear on television.

For one things were, that the electronic media would gladly beat the drum for "the case". Just to be sure, they had to make fun of "it" so that they would not be ridiculed. And Ole Knudsen got the task of making fun of the whole thing. Yet twice. He forgot though, to tell that when he was younger, he was running around in the streets of Aarhus, selling a UFO magazine, delegated from a association, of which he was a prominent part of.

But on this Thursday in the middle of corn, Ole Knudsen got opposition from several people.
Many are still mad about that Ole Knudsen is so cocksure and says, perhaps it is best if Ole Knudsen stays at his "artificial stars and his artificial sky in the planetarium".

The wheat filed were thorough investigated by the American Jonah Ohayv, that has found at least three characters, that can verify the truth about, that corn circles is built by aliens:

1: The straws and axis were laying as a plait work, which can not be the case, if it is made by human beings.
2: The abolished axis was laying consistent parallel and in bunches, not spread in various directions.
3: The formation was laying inside a visual triangle from burial mounds, in a area with 21 burial mounds within 2 kilometers, and its axis pointed towards the biggest of the burial mounds.

All things considered, is it the most complex and precise formation in Denmark to date ( april 2003).

One of the signs of truth that these corn circles is not created by human beings, says Jonah Ohayv, is for example:

When the field is so the mature, that the straw con not be bend without breaking it, and when all the laying straws is not broken, then it is a clear indication that they're built by aliens.
When someone is going to look at these corn circles, the straws will break when you walk on then.

When everything is broken up into a large chaos is it a argument falsity, consequently that they're human - created ".
© UFO-SANDHEDEN ®, Denmark by Poul-Erik Nielsen, http://www.ufo-sandheden.dk - COPYRIGHT