UFO-object around the area of Skive in Denmark
- The police was involved with the investigation -
UFO observationsplace: Skive, Denmark


Observationstime: 60 minutes
Eye witnesses: 5

Noticed in the Newspaper 'Skive Folkeblad' March 22th. 1975.


Skive, Denmark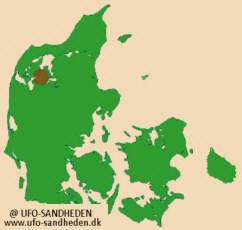 Mister Aage Jacobsen, is living in Moeelthorum near Skive asks himself, why he is followed by a UFO, which means a unidentified object. His experiences wednesday and friday evening last week interprets that, such a object has a good eye on him.

"Wednesday evening", so Aage Jacobsen tells, "my son-in-law, Kaj Stouby from Junget, and I would drive from here to Selde, to visit a friend. He was not home, and so we drew back to Moegelthorum, where I live."
© UFO-SANDHEDEN ®, Denmark by Poul-Erik Nielsen, http://www.ufo-sandheden.dk - COPYRIGHT
"Out from the north at a distance, that we found to be approximately 400 meter from us, and a altitude of a couple of hundred meters, came a fire ball, that prosecuted us. At distance it had the size of approximately 50 times 50 cm.
When I came inside to my wife, the fireball stood calmly outside our house in the mentioned distance, and I had good time to show it to her.
There were none sound coming from the fireball. The time was between 09.00 p.m. and 10.00 p.m. I called the police in Skive to tell them about the incident, however as I was talking in the phone, the fireball disappeared fire-ball to the north-east".

"As it was dissapearing in the horizon, it changed the color to red, yellow and purple.
I were at no time scared, however we talked to friends and family about the phenomenon."

"Friday evening about the same time I drew out again, however I drew the in the opposite direction. When the fireball turned up again out of Junget, on the road between Junget and Selde. I drew in cover behind house. When I did that, the fireball stood calmly in a position, approximately by 'kridtgraven' near Batum. I drew on, and the bullet followed me again. Later on I went to a parking space, and again the fireball was going into waiting position, as I was parked there."
© UFO-SANDHEDEN ®, Denmark by Poul-Erik Nielsen, http://www.ufo-sandheden.dk - COPYRIGHT
"When I came home, I called the police again, however as soon as I was in connection with the police, it disappeared once again into the horizon."

"Both wednesday and friday evening, I guess it lasted about a hour. Friday evening, when the bullet had followed us approximately from, where I live to Møgelthorum, Peter Moeller , why lives in the village Lindum, was standing outside his farm and has also noticed the fire-ball, as it stopped outside our house. Between Moegelthorum and his property is a big area, called Sweden."

"It was a sure factor that the fire-ball low, at one time were to the left of the road, and moments later on the right side."

Mechanic Ernst Nielsen from Thorum, had also noticed the flying object in the area, and he was also thinking about what it could be, that were so attracting to the unknown object in the air over Nordsalling.
Mister Aage Jacobsen tells, that it´s of course is a special experience to see a fireball, that he did that wednesday evening, but it was not until that the fireball started to follow him on friday evening, that it became a little unpleasant.

Of course there is much talking about it in the neighborhood, says he, and it has started a lot of speculation, of what it could be. Some don´t believe in this, however a lot of us has experienced and seen the fireball, so it can not have been a optical illusion.

"We asks ourselves, if there were people on board. We could not see anyone, however could it be, that I was intended to be some kind of ´medium´ or what we should call it for close contact."
"We also have a theory that it, could be the radiation from the kalkhorsten at Batum, that attracted the fireball. All we know is that, we saw it with our own eyes, and now some of us are keeping a close eye on the night sky in our area. Last night I went to bed around midnight, and I made no observation.
Several other people along the road why had heard about phenomenon, come and helped with the look-out.
The police in Skive sent out a man with a camera on friday evening to take part in the seek of the fireball, however it was unsuccessful.
Around 09.00 p.m. several people on Viborgvej in Skive saw a bright colored object at the sky towards Gedsted.
Mr. Major S. Nielsen from The Air Command in Karup discloses that, the airforce did not have planes in the air with the reported low altitude.


Certified
Gen. S. Nielsen