Two young girls observed UFO


 
UFO Observationsplace: Kolding, Denmark
Observationsdate.........: January 16th. 1998, time: 10.32 pm.
Number of witnesses....: 2
Kolding, Denmark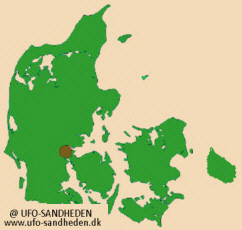 Two siblings (girls), respectively 24 and 25 years old, living a few blocks from each other, were together in the apartment in Kolding, this Friday night in which they observed something quite special.

They sit in the living room and talk together as they suddenly see a floating glowing object rise up towards the sky. "The object had a series of light, like Windows with light in," explains both girls, and goes on: "it was silently and moving in northerly direction".

They observe the object for about 45 seconds.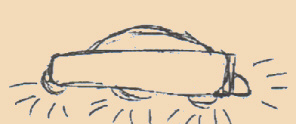 Sketch drawing produced by eye-witness number 1, SRN
One of the eye-witnesses are telling:

"My sister and I sat on the couch, and when I looked out of the window, I saw something light which rose upwards.
I had never seen something like this light before, so I asked my sister what she thought it was ".
"A star" she replied, "but no, it wasn't, because it was moving".

The girls were both very interested in finding out what it could be. Suddenly rose object no longer up, but floated horizontally in a northerly direction.
It came closer to the girls, and that is why they went out on the balcony. The girls were very surprised that they could not hear any sound.
They talked about the light coming from the object, and talked about what it could be.

Sketch drawing produced by eye-witness number 2, PLN
When they could no longer see the object, they went into the room and decided to call their father, who is a UFO researcher, to tell about their observation.

One of the eye-witnesses:
"My sister went in to one of the rooms in my apartment, which faces the North.
"It is here! Come on, hurry up! "cried she. "
I ran into the room and looked at the object in about 10 seconds, after which it disappeared out of sight".
"We went into the room again and talked about what we had seen. What was the deal? What was it for something light? Why was there no sound, and so on."

Certified,
SRN & PLN.


The result (by UFO researcher Poul-Erik Nielsen):

The girls called me and told that they had observed something very mysterious. I asked them immediately come over to me, which they did after about 15 minutes.

I asked each of the girls go into a separate room, so they could not talk to each other, and thus influence each other. I asked them each to draw the things which they had seen from the apartment.
The result of the observation the drawings as they are independent of each other, drew had astonishingly great similarities. You see the two different drawings on this page.

We can quickly and securely prove that this is not a case of either a plane or a helicopter. The drawings showing what they observed with their own eyes, while the object did not have any kind of sound, rotors or wings.
The girls had been eye-witness to a UFO, which was reasonably close to those under observation.

The occurrence took place on January 16th., 1998. Despite experience clarity has the now through 12 years stayed silent about the experience, since the vast majority do not understand it at that we will be visited by individuals from distant planets, and that the extraterrestrial takes advantage of vessels which are technologically far exceeds what earthly can perform.

The girls ' names are therefore protected for the public.

Certified
ufo-sandheden.dk